Freshness.
That's the gift offered by Kembang Langit Park. The cool air greeted us as we entered the village area where this park is located. The pine trees are shading us, like a giant umbrella that protects us from the sun. A sense of comfort surrounds us slowly.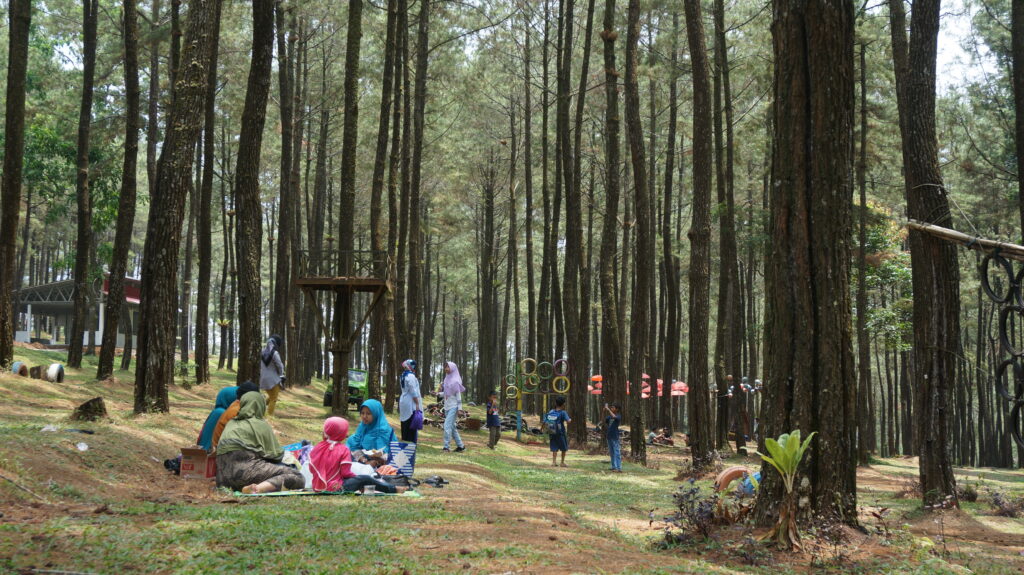 Kembang Langit Park, which is located in Kembang Langit Village, Blado District, Batang Regency, offers a beautiful atmosphere. Only about a 75-minute drive from Pekalongan, this park is perfect to visit to enjoy a weekend with family.
Having a picnic on the green grass under the trees, relaxing nap while the wind is swaying the hammock, trying out your courage with flying fox, enjoying the beauty of pine forests from viewing post, or taking photos with a beautiful natural background are a few of the many exciting things you can do in this agro-tourism area.
Kembang Langit Park is an agro-tourism area managed by Karang Taruna Bomat, a youth association in this village. The area, which opened at the end of 2016, is the first agro-tourism area in Batang District. Perhutani's pine forest which is no longer productive and is often used for negative activities has been transformed into a place of recreation and natural relaxation that can move the economy of the community.
Located on the fast lane to Dieng, Kembang Langit Park is also a great location for resting. A playground devoted to children, complete with a playground, is also available.
At present, Kembang Langit Park does not have a swimming pool for adults. "However, the long-term plan for development is already in the preparatory stage," said Husein, Secretary of Kembang Langit Park. Slowly but surely, the youths from the youth association in the village kept thinking of developing Kembang Langit Park.
"Just pray, okay? Hopefully, we can give jobs to more people," Husain said as he carried dry leaves along with some village youths.
Kembang Langit Park is open from 08.00 to 17.00 WIB. To relax in this pine forest area, we only need to pay an entrance ticket for Rp.5,000,-.