"I want to go on an excursion. To go around the city. I want to see the crowds. I call a pedicab (becak), a train without a horse. Pedicab, pedicab, carry me around." —Indonesian children song
Isn't it funny that there is a children song composed to describe the pleasure of traveling around the city in this almost-extinct mode of transportation? Pedicabs, the three-wheeled vehicles that 'roll' slowly along the street does provide a relaxing and soothing shuttling experience.
From the pedicab cart, with Abang Becak (local word for Pedicab Driver) pedaling on the back, we can feel the breeze lightly stroking our face tinted with the faint swish of the bicycle chain while enjoying the way the local interact along the road and sightseeing.
The slow speed of the pedicab allows us to observe the details of a place more carefully. Not surprisingly, it feels just right to stroll around the city on this environmentally-friendly transportation mode.
You can feel this memorable experience of riding on a Pedicab when visiting Pekalongan – especially if you are interested in culinary adventures. This Batik City has endless local food spots. The distance between one culinary attraction and another can indeed be quite tiring to reach on foot, but too close and too bothersome to be reached by car. Not to mention, there are a lot of culinary spots that are located on narrow alleys, and some stalls are quite small. By riding car or motorbike, we may pass through our desired culinary spot accidentally or even have difficulty finding parking.
Therefore, riding a rickshaw is the ideal solution to explore Pekalongan's culinary scene.
Have no idea where to go for your culinary adventure?
Just ask your Abang Becak! They are the most qualified tour guides in the city. Who knows more about the ins and outs of the city than the locals themselves? And based on experience, the recommendations of the locals are rarely wrong!
Ranging from megono rice (jackfruit rice), soto tauto (meat soup), or garang asem (savory & sour meat soup), your Abang Becak will have the recommendations of the most authentic local warungs (food stalls) that are their favorites! During the trip, you can also ask Abang Becak to stop and wait if there are other tempting foods you'd like to try along the way, or when you need to buy that beautiful batik cloth to take home!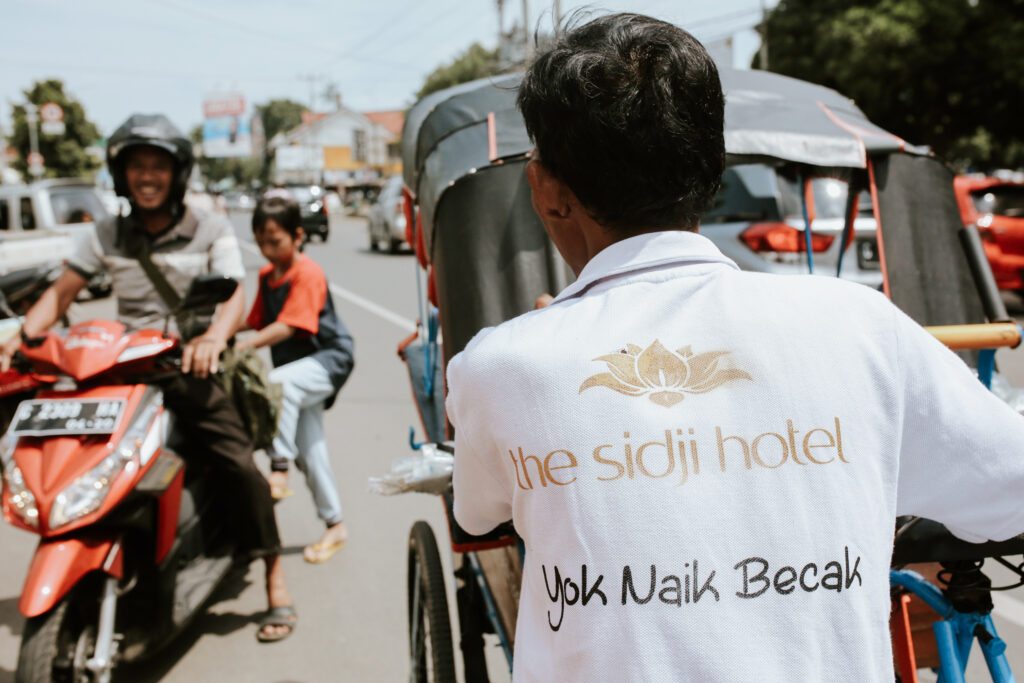 Exploring the city of Pekalongan on a pedicab can be considered as a treasure hunt. The treasure map is in the hands of Abang Becak of your choice! With his cap and a towel placed sideways on his shoulders, Abang Becak invite you to explore the corners of Pekalongan while enjoying how this port city interacts with its citizens, history, and culture.
In carrying out your pedicab adventure, it is best to trust your Abang Becak's recommendations and let him take you to his chosen places. This, if you'd like to unveil the city's treasures from the point of view of the people who inhabit it.